Overview
The Astoria, Finsbury Park, opened in September 1930, built for the Picture House Trust which had been founded by Arthur Segal with Edward A. Stone as its chairman and principal architect. Through most of the 1930s the programming combined film with live entertainment, including the Astoria Orchestra, conducted by Anton and the Astoria Girls; indeed the opening gala evening featured no film at all, but a "Spectacle of Empire" with music and dance.
The theatre was the fourth of the four famous Astoria theatres (the Astoria Brixton, the Astoria Old Kent Road (demolished), and the Astoria Streatham) which were built in the suburbs of London by independent exhibitor Arthur Segal.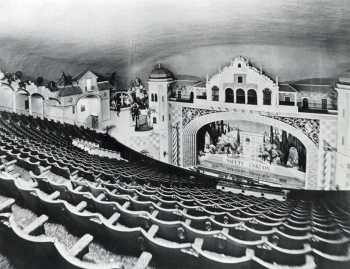 The Astoria Finsbury Park in 1930
The spectacular cinemas built by the Picture House Trust were made possible because of money from the American Paramount Corporation, and from 1931 they became known as the Paramount Astorias. The chain was acquired by Odeon in 1939 and after World War II the Finsbury Astoria became known as the Odeon Astoria, predominantly showing films but with occasional interludes from the Wurlitzer organ.
In the 1960s the theatre began to be used for concerts, including Frank Sinatra, Miles Davies, the Beatles and Cliff Richard, because the best available films went to the nearby Odeon, Holloway Road.
In September 1971 the theatre closed, reopening in November as a full-time rock concert venue with a show by The Who. Chipperfield's Circus followed with a Christmas season. Rock concerts were held regularly between June 1972 and January 1982, run by Biffo and Strutworth who in turn fell foul of Greater London Council safety regulations and its demands that maintenance be carried out to what became a listed building in January 1984.
The theatre lay derelict from 1982, with a brief use in the early 1990s as an Elim Pentecostal Church, until in 1996 its freehold was acquired from Rank by the Universal Church, a Brazilian foundation. Served with a repairs notice to carry out an extensive backlog of minor repairs, the Universal Church employed Nicholas Rule of Farrington Dennys Fisher to supervise the restoration of the building.
Information in part sourced from the UK Theatres Trust

.
Photographs copyright © 2002-2023 Mike Hume / Historic Theatre Photos unless otherwise noted.
Text copyright © 2017-2023 Mike Hume / Historic Theatre Photos.