Overview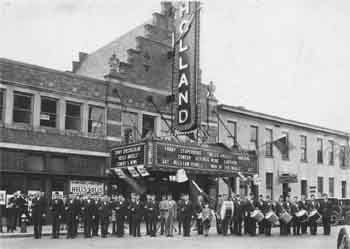 Exterior in 1931
The auditorium was intended to give the viewer the sense of walking down the street of a Dutch village. Hulsken drew the designs for the various building façades from his own knowledge and experience of actual buildings, including his birthplace. He even copyrighted the design in late 1930.
The exterior has a Flemish-style stepped-gable façade and uses Dutch cross bond brick. The lobby has a beamed ceiling, slate floors, and rough walls. The auditorium sidewalls feature Dutch landscapes including windmills that slowly turn, modeled after Hulsken's hometown of Arnhem, Holland. It is believed that it is the only atmospheric theatre to have been designed in a Dutch Village style.
From the 2001 listing on the National Register of Historic Places: working back from the proscenium, the first three façades are the same on both walls; the first façade is based on a building in Veere in the Netherlands; the exitways are designed after a gate in Eukhuizen and are surmounted by windmills with motorized vanes that slowly tum; and the next façades, which have stepped gables, represent Hulsken's birthplace in Amhem. The other façades, which vary in design, are drawn from other cities. The effect is further carried through by means of lighted windows in the "houses", dimly-lit streetlamps on the building walls, and rows of tulips that are perennially in bloom. Lions in various regal poses provide appropriate security, as do ornamented "city walls" that extend up into the balcony, topped by parapets and copings and ornamental urns.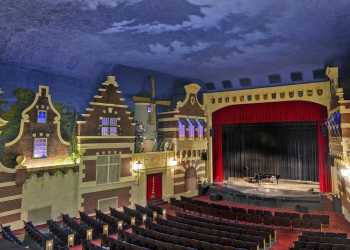 Auditorium in 2019
The Holland Theatre originally had the capability for both movies and stage plays but was eventually converted to a five screen multiplex, with the "main" screen remaining in the auditorium in front of the stage after it was sold in 1977. The theatre's balcony was split in half and converted into two screens, and two additional screens were constructed in the rear of the cinema where the stage previously existed.
In 1998, the multiplex closed and a sixth grade class made the theatre its class project to raise awareness. Richard Knowlton, a Bellefontaine businessman bought it, later donating the theatre to the Logan County Landmark Preservation. As the preservation group worked to restore the building, various fine arts events continued to be hosted. In 2010, the theatre received a grant from the Ohio Cultural Facilities Commission; the theatre board installed a new lighting system with the grant money. Additional grant money was secured in 2015 and 2019. Renovations were completed in October 2019 with singer Judy Collins opening.
Photo credits are noted where data was available at the time of inclusion. Photos displayed here may be subject to copyright; refer to our Copyright Fair Use Statement regarding our use of copyrighted media and contact us

with any concerns.
Photographs copyright © 2002-2023 Mike Hume / Historic Theatre Photos unless otherwise noted.
Text copyright © 2017-2023 Mike Hume / Historic Theatre Photos.