Overview
Opened as the Grand Riviera Theatre in late August 1925, the theatre was designed by noted architect John Eberson in an Atmospheric style with a Italian theme, the auditorium resembling a spectacular outdoor palazzo.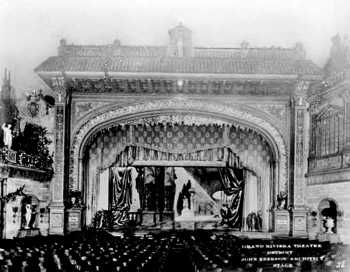 Auditorium in the late 1920s
The theatre opened with the movie The Desert Flower

starring Colleen Moore. The theatre was equipped with a Robert Morton 3-manual 10-rank theatre organ.
The theatre's soaring grand lobby was as stunning as the auditorium, complete with a grand marble staircase and three great arched windows over the front doors.
In 1927 the Annex Theatre was opened further up the street to accommodate overflow crowds from the Grand Riviera.
Within a couple years of opening, the theatre was wired for sound. In the early 1930s, "Grand" was removed from the theatre's name, although it was no reflection on the theatre itself.
In 1957, stage shows replaced movies, but returned in 1962.
In 1969 the theatre closed as a movie theatre. From 1969 until 1974, the Riviera Theatre was used for rock concerts.
From 1974 the closed theatre awaited its next incarnation, which never came. It quickly began to fall into disrepair, and by the 1990s, was in a serious state of disrepair. The theatre was ultimately demolished in 1999.
Since August 2001, the site has been occupied by the Detroit Grand River Social Security Office.
Information in part sourced from Cinema Treasures

.
Photographs copyright © 2002-2023 Mike Hume / Historic Theatre Photos unless otherwise noted.
Text copyright © 2017-2023 Mike Hume / Historic Theatre Photos.