Overview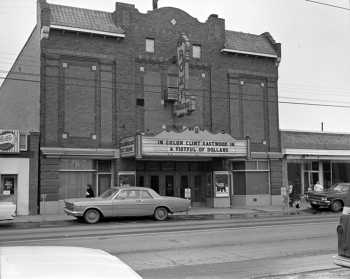 Theatre exterior in 1930
The theatre was designed in 1929 by Winnipeg architect Max Zev Blankstein for theatre magnate Nathan Rothstein of Rothstein Theatres. The name comes from the Roxy Theatre in New York, which opened in March of 1927. The theatre resembled the Roxy Theatre in Yorkton, Saskatchewan, also designed by Blankstein for Rothstein in 1928. It was built at a cost of $73,000 and officially opened 28th August 1930.
Despite being completed with an orchestra pit the stage area is minimal, with roughly 6ft (1.8m) of depth behind the title curtain and projection screen.
The Roxy, along with the other Rothstein Theatres, would become part of Odeon Theatres in January of 1944.
In 1973 new owners Rokeway Theatres Ltd closed the Roxy for renovation on 29th November 1973. The theatre reopened as the Towne Cinema two months later with the wildlife feature "Instinct for Survival".
In 1980 a twin screen was added in space adjacent to the original theatre, and the complex rebranded as the Towne Cinema Center. The second screen opened 30th May 1980 as Towne Cinema Blue and the original theatre was called Towne Cinema Red.
The theatre closed on 20th July 1995, its last movie being Die Hard with a Vengeance

.
In the mid-2000's, Tom Hutchinson of Edmonton – doing business as Magic Lantern Theatres Ltd – bought the theatre and undertook renovations exceeding $1 million. Hutchinson had been part of the crew that worked on the two month renovation completed in 1974.
The Roxy Theatre reopened in late September 2005 as a cinema and performing arts space, keeping much of its original design and charm intact. It is understood to be Western Canada's last Spanish courtyard themed Atmospheric theatre.
Hutchinson had reportedly bought the property because he didn't want to see the atmospheric theatre be torn down, but his intent was not to own it permanently. In February 2022 it was announced

that the theatre is for sale.
Information in part sourced from the Winnipeg Architecture Foundation

.
Photo credits are noted where data was available at the time of inclusion. Photos displayed here may be subject to copyright; refer to our Copyright Fair Use Statement regarding our use of copyrighted media and contact us

with any concerns.
Photographs copyright © 2002-2023 Mike Hume / Historic Theatre Photos unless otherwise noted.
Text copyright © 2017-2023 Mike Hume / Historic Theatre Photos.