<< Go Back up to Historic Theatre Photography main page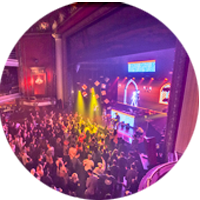 This events guide features all the information we have on events. The guide covers theatres featured on this website so you may wish to check local listings for any additional theatre tours available. Enjoy your event!
Note: this event occurs in the past
The Dollop Podcast Live (19th January 2019, 7pm)
Come and join us to see The Dollop live featuring Dave Anthony and Gareth Reynolds.
History buff and comedian Dave Anthony was considering starting a new podcast in 2014. His idea was to write up an unknown story from American history and read it to a different comedian each week. Having not heard of the story before, Dave hoped the comedian's reaction would be hilarious. He gave it a go and his first guest was comedian Gareth Reynolds. They immediately clicked and fans flooded social media telling Dave to never change the co-host. And he didn't.
Sticking to the formula of Dave reading Gareth a story he has never heard, The Dollop quickly shot up the charts. Fans of both comedy and history were drawn to the wild stories and quick improv skills of Gareth. With millions of downloads, The Dollop has become a regular presence on top of the podcast charts, as well as selling out shows in both the US and Australia.
Tickets $10 - $55.50. Doors open at 5:30pm, show starts at 7pm.
***A highly limited number of VIP Meet & Greet passes are available at the time of ticket purchase (as an add on to your ticket before check out).***
For more info see: https://www.dolloppodcast.com/tour-schedule.html

Special Events information is provided on a best endeavors basis only. Information posted on this website was correct at the time of publication but details may have been modified after that date. You are therefore strongly encouraged to use the links provided for each event to confirm final details. This website is not responsible for any issues arising from incorrect information posted on these pages.
All images copyright © 2002-2019 Mike Hume/historictheatrephotos.com. For licensing and/or re-use contact me here.
| | | | |
| --- | --- | --- | --- |
| Follow Mike Hume's Historic Theatre Photography: | | | |