<< Go Back up to Historic Theatre Photography main page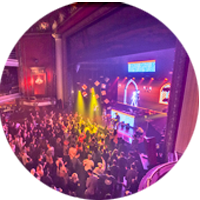 This events guide features all the information we have on events. The guide covers theatres featured on this website so you may wish to check local listings for any additional theatre tours available. Enjoy your event!
Note: this event occurs in the past
LA Harbor International Film Festival (14th to 17th March 2019, various times)
The 16th Annual LA Harbor International Film Festival (LAHIFF) runs from 14th to 17th March 2019 with all events taking place at the Warner Grand in San Pedro.
The LAHIFF showcases film and video that reflects the harbor and all that it embraces - shipping and commerce, fishing, sailing, water sports, sea life and the area's rich ethnic and cultural influences - to create a cinematic bridge between the people of the region and the people of the world.
Screenings include "Sixteen Candles" (1984), "Gentlemen Prefer Blondes" (1953), "Rebel With A Cause:The Story of Aiko Herzig Yoshinaga" (2016), plus more. Check event website for more details and for ticket prices.
Click here to go to the event website.

Special Events information is provided on a best endeavors basis only. Information posted on this website was correct at the time of publication but details may have been modified after that date. You are therefore strongly encouraged to use the links provided for each event to confirm final details. This website is not responsible for any issues arising from incorrect information posted on these pages.
Photographs copyright © 2002-2019 Mike Hume/historictheatrephotos.com unless otherwise noted.
Text copyright © 2017-2019 Mike Hume/historictheatrephotos.com.
For photograph licensing and/or re-use contact me here.
| | | | |
| --- | --- | --- | --- |
| Follow Mike Hume's Historic Theatre Photography: | | | |