<< Go Back up to Historic Theatre Photography main page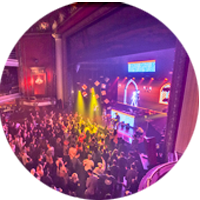 This events guide features all the information we have on events. The guide covers theatres featured on this website so you may wish to check local listings for any additional theatre tours available. Enjoy your event!
Note: this event occurs in the past
Guided Tour (25th August 2019, 5pm)
In this guided tour, you'll discover the details of Lincoln's assassination and the fate of those involved in that historic event. Stops on the tour include: Balcony and Orchestra levels of the historic theatre; Entrance to the President's Box, where Booth waited to shoot the President; the historic stage, where you can see the theatre from an actor's perspective; and the back alley, where you can follow Booth's escape route.
Tours are limited to 20 participants and led by a trained Ford's Theatre guide with a passion for history. This guided tour covers the theatre only; you may wish to reserve earlier tickets to the full historic site including the museum, Petersen House and Aftermath Exhibits.
Length: 1 hour. Recommended for ages 8 and older. Tickets $28.
Click here to go to the event website.

Special Events information is provided on a best endeavors basis only. Information posted on this website was correct at the time of publication but details may have been modified after that date. You are therefore strongly encouraged to use the links provided for each event to confirm final details. This website is not responsible for any issues arising from incorrect information posted on these pages.
Photographs copyright © 2002-2019 Mike Hume/historictheatrephotos.com unless otherwise noted.
Text copyright © 2017-2019 Mike Hume/historictheatrephotos.com.
For photograph licensing and/or re-use contact me here.
| | | | |
| --- | --- | --- | --- |
| Follow Mike Hume's Historic Theatre Photography: | | | |