<< Go Back up to Historic Theatre Photography main page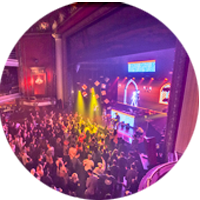 This events guide features all the information we have on events. The guide covers theatres featured on this website so you may wish to check local listings for any additional theatre tours available. Enjoy your event!
Note: this event occurs in the past
"Self Discovery For Social Survival" (15th June 2019, 8pm)
Self Discovery for Social Survival is a collaborative film from record label Mexican Summer and surf and outdoor brand Pilgrim Surf + Supply.
Filmed in Mexico, the Maldives, and Iceland in three separate vignettes, musicians (Allah-Las, Connan Mockasin, Andrew VanWyngarden of MGMT, and Peaking Lights) and pro-surfers (Stephanie Gilmore, Creed McTaggart, Ryan Burch + more) embark on sound and surf journeys that conjures a surreal and serene symbiosis of music, the environment, and local culture. The film is poetically narrated by the legendary avant-garde filmmaker Jonas Mekas, one of his last recorded testaments.
Self Discovery for Social Survival premieres in Los Angeles at The Palace Theatre on Saturday, June 15 2019, with a live score performed by Allah-Las, Connan Mockasin, and Andrew VanWyngarden of MGMT.
Doors 7pm, Screening 8pm. Tickets $40 Prime Viewing / $30 Orchestra / $35 Mezzanine / $25 Balcony.
Click here to go to the event website.

Special Events information is provided on a best endeavors basis only. Information posted on this website was correct at the time of publication but details may have been modified after that date. You are therefore strongly encouraged to use the links provided for each event to confirm final details. This website is not responsible for any issues arising from incorrect information posted on these pages.
Photographs copyright © 2002-2019 Mike Hume/historictheatrephotos.com unless otherwise noted.
Text copyright © 2017-2019 Mike Hume/historictheatrephotos.com.
For photograph licensing and/or re-use contact me here.
| | | | |
| --- | --- | --- | --- |
| Follow Mike Hume's Historic Theatre Photography: | | | |