<< Go Back up to Historic Theatre Photography main page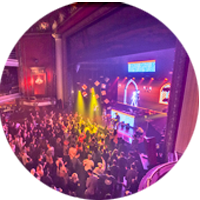 This events guide features all the information we have on events. The guide covers theatres featured on this website so you may wish to check local listings for any additional theatre tours available. Enjoy your event!
Note: this event occurs in the past
"Why Not Choose Love? A Mary Pickford Manifesto" (12th June 2019, 7pm)
Written and directed by Jennifer DeLia, the movie is based on the life of visionary sensation, Mary Pickford, portrayed on screen by Sophie Kennedy Clark (Philomena; Nymphomaniac). The film takes form in an intimate exploration of her coming of age story as she discovers her passions and plays an instrumental role in the rise of American cinema. She is the woman who created Hollywood as we know it, founding United Artists, the original United Artists Theatre, and the Academy of Motion Picture Arts and Sciences, and became the most iconic star of her day, coined more popular than the Queen. Today, Mary Pickford is one of the least understood artists in the history of popular culture.
Join us as we highlight the power of the feminine and love through an immersive evening, blending art, performance, film, and conversation, in a celebration of America's Sweetheart and independent artistry in the 100 year anniversary of her beloved United Artists, at the iconic United Artists theatre, birthed by Pickford herself and brought back to life by Ace Hotel.
Pre-reception: 6pm-7pm. Film + panel discussion: 7pm-10pm.
Click here to go to the event website.

Special Events information is provided on a best endeavors basis only. Information posted on this website was correct at the time of publication but details may have been modified after that date. You are therefore strongly encouraged to use the links provided for each event to confirm final details. This website is not responsible for any issues arising from incorrect information posted on these pages.
Photographs copyright © 2002-2019 Mike Hume/historictheatrephotos.com unless otherwise noted.
Text copyright © 2017-2019 Mike Hume/historictheatrephotos.com.
For photograph licensing and/or re-use contact me here.
| | | | |
| --- | --- | --- | --- |
| Follow Mike Hume's Historic Theatre Photography: | | | |