<< Go Back up to Historic Theatre Photography main page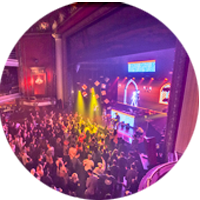 This events guide features all the information we have on events. The guide covers theatres featured on this website so you may wish to check local listings for any additional theatre tours available. Enjoy your event!
Note: this event occurs in the past
Tiki Night (13th July 2019, 4pm)
We commemorate the 60th anniversary of Hawaii's statehood with a pair of 1960s island-set favorites! A fragrant South Seas breeze blows through Hollywood, bringing with it our 15th annual Tiki Night - a celebration of all things Mid-Century Tiki!
Beginning at 1:30pm, entry into the courtyard is free to shop for Tiki art, memorabilia, clothing and accessories in our Tiki marketplace. At 3:30pm the courtyard closes except to ticket holders. Vendors include Black Cat Atomic Vintage, Clever Vintage, Eric October, Rarabird, Tiki Swag, artist Stephen Del Tour and more to be announced.
For Ticket Holders Only: At 4pm, author Matthew Locey will give a "Hawaii on Film" presentation in the theatre. At 5pm, enjoy performances from King Kukulele & The Friki Tikis and the Polynesian Paradise Dancers, tiki cocktails (by Damien Montanile & Associates) and food available for purchase from food trucks Aloha Fridays & Hang Loose Hawaiian Shaved Ice food, before taking in our double feature of "Gidget Goes Hawaiian" (1961) and "Paradise, Hawaiian Style" (1966), hosted by King Kukulele, at 7:30pm.
Click here to go to the event website.

Special Events information is provided on a best endeavors basis only. Information posted on this website was correct at the time of publication but details may have been modified after that date. You are therefore strongly encouraged to use the links provided for each event to confirm final details. This website is not responsible for any issues arising from incorrect information posted on these pages.
Photographs copyright © 2002-2019 Mike Hume/historictheatrephotos.com unless otherwise noted.
Text copyright © 2017-2019 Mike Hume/historictheatrephotos.com.
For photograph licensing and/or re-use contact me here.
| | | | |
| --- | --- | --- | --- |
| Follow Mike Hume's Historic Theatre Photography: | | | |