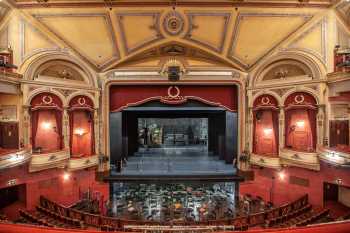 Doors Open Day
28th September 2019, 10am to 4:30pm
This event has passed and is shown for archival purposes only.
Hour-long building tours will highlight the history and heritage of our building and showcase the theatre's connections with a host of global entertainers. Tours run at 10:30am, 12:30pm and 2:30pm.
Intergenerational dance workshops where visitors can learn dances from across the globe – the vibrant Brazilian Samba, the timeless English Waltz through to jumpin' jive from America and the dance of the Spanish matador, the Paso Doble. 11:30am-Midday and 1:30pm-2pm.
Musical storytelling workshops where participants will engage with storytelling and song in multiple languages. Working together with professional performance artists they will be create original lyrics to a new composition and explore the different styles of staging possible on the largest stage in Scotland. All ages and abilities will be welcome. Midday-12:30pm and 2pm-2:30pm.
The Vintage Chorus, our theatre choir, will be singing a medley of songs on a global theme, 1:30pm-2:30pm.
All events are free but advance booking is essential. Click here

to book tickets.
Click here to go to the event website.