<< Go Back up to Historic Theatre Photography main page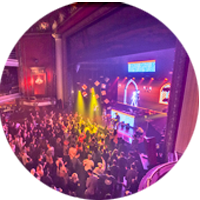 This events guide features all the information we have on events in Texas. The guide covers theatres featured on this website so you may wish to check local listings for any additional theatre tours available in Texas. Enjoy your event!
Display as: List | Calendar
List view shows only the first instance of a recurring event, e.g. only the first instance of a regular weekly tour series.
Calendar view shows all instances of recurring events, except for daily events which are not shown for clairty (use List view instead).
Anniversary Gala 2019 (11th May 2019, 7pm)
To celebrate the 104th year of the historic Paramount Theatre, we're enlisting the wild energy of The World's Greatest Party Band to convert Congress Avenue into the biggest "love shack" of all time. We're thrilled to join our Board of Directors in announcing the 2019 Anniversary Gala will feature The B-52s!
With a vintage 1960s theme, this electric evening will highlight amazing music, nonstop dancing, incredible food, and essential community support. And, to keep the party going into the night, we'll also feature Skyrocket! in the after-party tent – plus more to come!
For more info see: http://www.austintheatre.org/paramount-gala-2019/

Special Events information is provided on a best endeavors basis only. Information posted on this website was correct at the time of publication but details may have been modified after that date. You are therefore strongly encouraged to use the links provided for each event to confirm final details. This website is not responsible for any issues arising from incorrect information posted on these pages.
All images copyright © 2002-2018 Mike Hume/historictheatrephotos.com. For licensing and/or re-use contact me here.
| | | | |
| --- | --- | --- | --- |
| Follow Mike Hume's Historic Theatre Photography: | | | |