<< Go Back up to Region 'Greater Los Angeles Area'
| | | | |
| --- | --- | --- | --- |
| Follow Mike Hume's Historic Theatre Photography: | | | |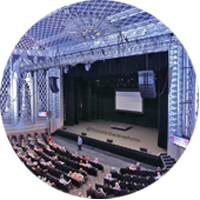 Featured Photos
Overview
The Saban opened as the Fox Wilshire Theater in September 1930 and is one of Los Angeles' most notable Art Deco buildings. Theatre architect S. Charles Lee designed the Saban to be fully capable as a theatre for vaudeville in addition to its main focus as a major film presentation house.
The theatre was S. Charles Lee's third theatre design, following the Tower Theatre (1927) and Los Angeles Theatre (1931), both in Downtown Los Angeles. Originally seating 2,295, the theatre now has capacity for 1,900 with the rear Orchestra section having been turned into an extended lobby and circulation space. The Balcony has a moveable curtain, which reduces the Balcony capacity by roughly half for smaller shows, although its use precludes any form of projection or followspots being used from the projection booth. Despite two renovations and various modernizations the theatre retains much of its original appearance.
For many years the theatre operated as one of 20th Century Fox's premiere theatres. The theatre's wide proscenium arch allowed for an extra large screen, which, coupled with re-equipping for 70mm movie projection in 1959, made it a natural home for long runs of widescreen films such as Exodus (1960), Goodbye, Mr Chips (1969), Fiddler On The Roof (1970), Man Of La Mancha (1972), and The Sound of Music (1965) which ran for 93 weeks. Fox closed the theatre in 1977, then in 1981 it was taken over by the Nederlander Organization and renovated for stage use. Temple Of The Arts has owned and operated the theatre since 2005, and in 2009 it was renamed the Saban following a $5M grant from Haim and Cheryl Saban.
The house curtain opened with vertical panels rising from the center out to the sides, and with its Art Deco curlicue design must have been quite a sight to see.
Many television recordings have taken place at the Saban including Last Comic Standing (2003), Eddie Murphy (2012), Extraordinary: Stan Lee (2017) and movies such as Night Of The Running Man (1995).
How do I visit the Saban Theatre?
As of mid-2017 the Saban does not offer tours however they host many events which are available to book online at the theatre's website

.
Further Reading
Online
Books
"American Theatres of Today" (originally published as two volumes in 1927 and 1930; reissued as a single volume in 2009 by the Theatre Historical Society of America), by R. W. Sexton and B. F. Betts, published by Liber Apertus Press. ISBN 0978588169.
Photos of the Saban Theatre
All photographs copyright © 2002-2018 Mike Hume/historictheatrephotos.com. For licensing and/or re-use contact me here.
| | | | |
| --- | --- | --- | --- |
| Follow Mike Hume's Historic Theatre Photography: | | | |