<< Go Back up to Region 'Los Angeles: Downtown'
| | | | |
| --- | --- | --- | --- |
| Follow Mike Hume's Historic Theatre Photography: | | | |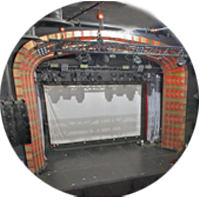 Overview
The Regent Theater is a small 600-seater theatre on Downtown LA's Main St. Originally the National Theatre, the first theatre built on this site around 1910 had a capacity of just 350. It was rebuilt in 1914, retaining the National name but boasting a capacity of 600. The theatre was renamed The Regent around 1917.
In the early 1910s Main St boasted a busy theatre scene, boasting over 20 theatres. By the 1920s patrons were migrating over to the new, more spacious and luxurious, movie palaces being built on South Broadway. The theatres on Main St declined and began catering to different audiences, converting to alternative uses, or simply shuttering. The Regent changed from being a first-run house to a second-run house, then in the 1940s underwent a "rebirth" to modernize it with a sleek new façade and marquee.
Over the course of the years the Regent became a grindhouse pumping out B-movies and toward the end of the 20th Century became an all-night adult movie venue.
In 2012 the theatre was taken over by long-time music promoter Mitchell Frank and the Regent reopened in November 2014 as a multipurpose live entertainment venue with capacity for 1,100. Although the Orchestra seats have been removed the raked floor remains in place, as does much of the original auditorium decoration including the fine proscenium arch. Sadly the gothic-inspired ceiling was too fragile to be preserved.
How do I visit the Regent Theater?
The Regent Theatre doesn't currently offer tours (as of July 2017) so check out the theatre's website

for events playing at the Regent - it's a popular and busy venue. You can also get into the Regent by going along to the Great Rock and Roll Flea Market

which runs the first and third Sunday of each month from 11am to 4pm.
Further Reading
Online
The Los Angeles Theatres website has lots of information on The Regent with photographs spanning many years including during the rennovation leading up to the theatre's current state, and a complete history of the theatre since its opening in 1914.
The Cinema Treasures pages about The Regent include additional history and exterior photos.
The Los Angeles Conservancy website contains further information on The Regent and original environs: the popular 1920s Main St entertainment district.
Books
Photos of the Regent Theater
All photographs copyright © 2002-2018 Mike Hume/historictheatrephotos.com. For licensing and/or re-use contact me here.
| | | | |
| --- | --- | --- | --- |
| Follow Mike Hume's Historic Theatre Photography: | | | |