<< Go Back up to Region 'Greater Los Angeles Area'
| | | | |
| --- | --- | --- | --- |
| Follow Mike Hume's Historic Theatre Photography: | | | |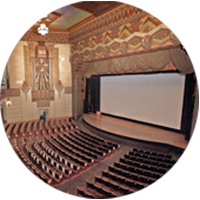 Featured Photos
Overview
The Warner Grand was opened in January 1931 as a movie palace for Warner Bros. Architect B. Marcus Priteca, noted for the Pantages Theatre in Hollywood, and interior designer Anthony Heinsbergen were contracted to design and build three theatres for Warner Bros in the popular Art Deco style, of which the Warner Grand is the best surviving example.
In the late 1970s and early 1980s the theatre was run as a Spanish-language film house called Teatro Juarez. By 1995 the theatre had suffered a lengthy period of neglect and the Grand Vision Foundation was formed with the aim of preserving the building rather than let it be demolished or re-developed. The City of Los Angeles purchased the building in 1996; Grand Vision continues to raise funds for ongoing restoration and upgrades, as well as promoting events at the theatre.
As was typical of movie palaces of the time the proscenium arch is both wide and high but the stage depth is very shallow. Basic hemp-line flying facilities were included when built and were upgraded to a counterweight system in 2007.
The Warner Grand has featured in many television shows and movies, examples being "Melrose Place" (Fox, 1992–99), "Feud: Bette and Joan" (FX, 2017–), "What's Love Got To Do With It" (1993), "Pearl Harbor" (2001), "Seabiscuit" (2003), and "Live by the Night" (2017).
The Warner Grand's two sister theatres did not fair so well. The Beverly Hills Warner Theatre (May 1931) was demolished in 1988 and replaced with a parking lot. The Huntington Park Warner (November 1930) was significantly altered in the 1980s, shuttered in the 1990s and will likely face adaptive reuse in the near future.
Movie, TV & Music Video Appearances
Movies
Television
Feud (2017-) . Episode: More, or Less (2017). The Warner Grand is the location for the test movie screening.
How do I visit the Warner Grand?
The Warner Grand does not offer theatre tours however a wide variety of programs run at the theatre all year round. Check out the Warner Grand's website

for the full calendar of events.

As of June 2017 the Los Angeles Conservancy's Last Remaining Seats program has started using the Warner Grand as a venue for screening classic films several times a year. Pre-screening Backstage tours are often available but very limited in numbers and fill-up quickly. Check out the Last Remaining Seats website

for schedule and more information.
Further Reading
Online
Photos of the Warner Grand
All photographs copyright © 2002-2018 Mike Hume/historictheatrephotos.com. For licensing and/or re-use contact me here.
| | | | |
| --- | --- | --- | --- |
| Follow Mike Hume's Historic Theatre Photography: | | | |