<< Go Back up to Historic Theatre Photography main page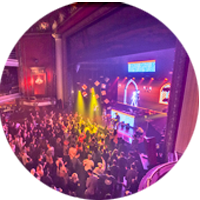 This events guide features all the information we have on events. The guide covers theatres featured on this website so you may wish to check local listings for any additional theatre tours available. Enjoy your event!
Note: this event occurs in the past
"Peter Pan" (17th August 2019, 12pm)
In this Disney animated film, Wendy (Kathryn Beaumont) and her two brothers are amazed when a magical boy named Peter Pan (Bobby Driscoll) flies into their bedroom, supposedly in pursuit of his rebellious shadow. He and his fairy friend, Tinkerbell, come from a far-off place called Neverland, where children stay perpetually young. Enchanted, the kids follow him back. But when Pan's nemesis, the pirate Captain Hook (Hans Conried), causes trouble, the kids begin to miss their old life.
Doors 11am, Movie 12pm. Run time 1h 17min. Tickets $5.
Click here to go to the event website.

Special Events information is provided on a best endeavors basis only. Information posted on this website was correct at the time of publication but details may have been modified after that date. You are therefore strongly encouraged to use the links provided for each event to confirm final details. This website is not responsible for any issues arising from incorrect information posted on these pages.
Photographs copyright © 2002-2019 Mike Hume/historictheatrephotos.com unless otherwise noted.
Text copyright © 2017-2019 Mike Hume/historictheatrephotos.com.
For photograph licensing and/or re-use contact me here.
| | | | |
| --- | --- | --- | --- |
| Follow Mike Hume's Historic Theatre Photography: | | | |