<< Go Back up to Region 'New York'
| | | | |
| --- | --- | --- | --- |
| Follow Mike Hume's Historic Theatre Photography: | | | |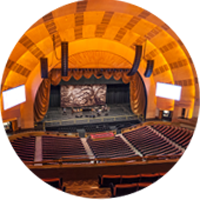 Overview
Radio City Music Hall, nicknamed "the Showplace of the Nation", opened in December 1932. The vast Art Deco music hall is part of the Rockefeller Center complex. Radio City seats 5,960 across four levels - the huge Orchestra level and three shallow mezzanines. The theatre's elaborate stage elevator system was so advanced that the US Navy incorporated the design into World War II aircraft carriers, and stationed guards on-site during the war to keep prying eyes away.
More details to follow…
How do I visit Radio City Music Hall?
Radio City's signature "Stage Door Tour" runs daily every half hour from 9:30am to 5pm and lasts approximately one hour. Tickets are available in advance on the Radio City Music Hall website

or may be purchased in person at the Radio City Sweets & Gifts store located at 1260 Avenue of the Americas (between 50th and 51st Streets). As of Summer 2018 tickets cost $30 (Children/Students/Seniors $26). Group rates are available (see website

).

Note: tour content, prices, dates and times are subject to change without notice. Tours are offered on a first come, first served basis and are subject to availability. When an event is in progress there may be limited access to the seating area inside the Music Hall and the basement Hydraulics area. Furthermore, tours may only be able to view the Auditorium from a private viewing area.
Photos of Radio City Music Hall
All photographs copyright © 2002-2019 Mike Hume/historictheatrephotos.com. For licensing and/or re-use contact me here.
| | | | |
| --- | --- | --- | --- |
| Follow Mike Hume's Historic Theatre Photography: | | | |