<< Go Back up to Region 'Greater Los Angeles Area'
| | | | |
| --- | --- | --- | --- |
| Follow Mike Hume's Historic Theatre Photography: | | | |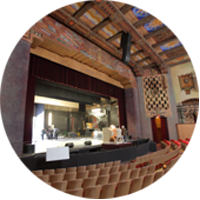 Featured Photos
Overview
The San Gabriel Mission Playhouse sits beside the historic San Gabriel Mission in Los Angeles County California. The theatre was constructed between 1923 and 1927 for "The Mission Play", a 3-hour pageant-style production conceived to illustrate the establishment of the California missions. The theatre currently seats 1,387 on two levels and its architecture reflects Spanish, Native-American and Californian culture. The theatre houses a fully-restored Wurlitzer Organ.
The theatre was designed by Arthur Burnett Benton and William J. Dodd and was built by John S. McGroarty, whose bust is still the current centerpiece of the lobby. The theatre's façade resembles the San Antonio de Padua mission near Monterey, McGroarty's favorite California mission.
The interior architecture features huge lanterns modeled on those found aboard Spanish galleons. The ceiling is suspended plaster intricately painted to resemble a wooden beam paneled ceiling. Tapestries adorn the auditorium walls and were a gift from the King of Spain for the theatre's opening in 1927.
In 1932 the long run of "The Mission Play" ended and the theatre started showing movies, necessitating the addition of a projection booth at the rear of the balcony. During the war years some of the dressing rooms were used as makeshift apartments; following the war citizens of San Gabriel concerned for the theatre's future lobbied the city to purchase it, which ultimately happened in 1945.
The theatre is home to a 1927 Wurlitzer Organ originally built in New York for the Albee Theatre in Brooklyn, NY. It was donated to the theatre in 1968 and fully restored in 2009.
How do I visit the San Gabriel Mission Playhouse?
As of March 2017 tours are arranged on an adhoc basis for groups of 5 or more. Each tour gives a great insight into the building's rich history, restoration programs and current activities, affording an overview of the architectural and design elements that grace both interior and exterior, and a demonstration of the renowned Wurlitzer Theatre Organ. For more details check the Mission Playhouse's website

.
Further Reading
Online
Photos of the San Gabriel Mission Playhouse
All photographs copyright © 2002-2018 Mike Hume/historictheatrephotos.com. For licensing and/or re-use contact me here.
| | | | |
| --- | --- | --- | --- |
| Follow Mike Hume's Historic Theatre Photography: | | | |