<< Go Back up to Region 'Chicago'
| | | | |
| --- | --- | --- | --- |
| Follow Mike Hume's Historic Theatre Photography: | | | |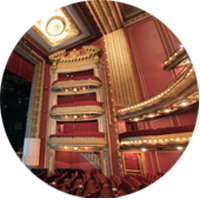 Featured Photos
Overview
Opened as the Majestic Theatre in 1906 as part of the multi-use Majestic Building, the theatre occupying lower floors and the Majestic Hotel occupying upper levels. Since 1991 the theatre has been owned by the Nederlander Organization; it is currently operated by Broadway in Chicago.
The architects of The Majestic were Edmund R. Krause, George L. and Cornelius Rapp. The Majestic opened as a vaudeville venue and joined the Orpheum Circuit in the 1920s. The theatre closed in 1932 due to the Great Depression and remained dark for 15 years. It was purchased in 1945 by the Shubert Organization who operated it under the name of the Shubert Theatre until Nederlander took over in 1991.
Today, Broadway in Chicago brings Broadway's biggest hits to the theatre in addition to premieres and pre-Broadway tryouts, and as of late 2016 it became home to the only resident production of Hamilton in the US outside of Broadway.
The theatre was designed with racial segregation in mind and, as such, patrons seated on differing levels used different entrances. Sightlines within the auditorium also minimized the view of lower-price ticketholders from the higher-price ticketholders!
The theatre was extensively renovated in 2005-06 and the current color scheme is believed to match the original. Current seating capacity is 1,800 (originally 2,500). The theatre has largely retained all its original fixtures and fittings including intricate lobby paneling, lighting, and mosaic floor.
The theatre sells its naming rights and during the Nederlander ownership has been known as the La Salle Bank Theatre and the Bank of America Theatre. More recently it was known as the PrivateBank Theatre, until September 2017 when the name was changed to the CIBC Theatre, representative of the June 2017 acquisition of PrivateBancorp by Canadian bank CIBC.
Listed/Landmark Building Status
Chicago Landmark #11389 (added 11th May 2005)
How do I visit the CIBC Theatre?
Tours are available through Broadway In Chicago 

. Public tours run every Saturday at 11am and visit two of the three Broadway in Chicago venues: the Nederlander Theatre (previously known as the Oriental Theatre), the Cadillac Palace and the CIBC Theatre. Tours cost $16 plus fees. Not sure if walk-up tickets are available at the theatre Box Office. Information correct as of December 2018.
Further Reading
Online
The Broadway In Chicago website is the theatre's official website and includes some history on the theatre, calendar of events and online booking including for theatre tours.
The Chicagology website contains a wealth of information on the theatre's early history when it debuted as The Majestic.
The Cinema Treasures website has detailed history and further photos of the theatre.
Photos of the CIBC Theatre
Photographs copyright © 2002-2019 Mike Hume/historictheatrephotos.com unless otherwise noted.
Text copyright © 2017-2019 Mike Hume/historictheatrephotos.com.
For photograph licensing and/or re-use contact me here.
| | | | |
| --- | --- | --- | --- |
| Follow Mike Hume's Historic Theatre Photography: | | | |