<< Go Back up to Historic Theatre Photography main page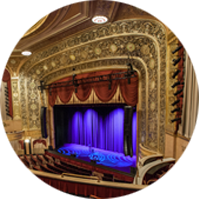 This theatre tour guide features all the information we have on theatre tours in the U.S. Northeast. The guide covers theatres featured on this website so you may wish to check local listings for any additional theatre tours available in the U.S. Northeast. Enjoy your tour!
Ford's Theatre is a very popular Washington DC tourist destination in addition to being a working theatre presenting a varied schedule of theatrical and live entertainment events. Ford's Theatre welcomes more than 650,000 visitors a year. In common with most Washington DC attractions, visitor security checks are in operation at Ford's Theatre.
The theatre and museum are open daily, generally 9am to 4:30pm although the schedule can vary. The schedule is available on the Ford's Theatre website 

. Tickets, available for the theatre, the museum, or both, are timed-entry every half hour and cost $3 for all visitors. Visiting both museum and theatre takes around two hours.
Peak visitor times are March to July. To guarantee admission advance booking is strongly recommended 

. A limited number of same-day tickets are sold on a first come, first served basis, with the Box Office opening daily at 8:30am (closes 5pm). Further information on daily tours is available on the Ford's Theatre website 

.
Guided tours, limited to 20 participants, run at 5pm on select Sundays. These tours last one hour and usually included access to the Orchestra, Balcony, view into the Presidential Box, and the Stage. Check the theatre's website for the guided tour schedule and to book online 

.
As of mid-January 2022, tours run twice a week: Tuesdays and Friday at 11am. From 2nd March 2022 to 26th March 2022 tours run Wednesday and Saturdays at 10am. From 29th March 2022 tours run Tuesdays, Fridays, and Sundays at 11am. These dates/times should be used as a guide only; for the most up-to-date information check the final schedule on the Tours section of the theatre's website

which also includes any blackout dates. Tours last approximately 1 hour 30 minutes and include some stairs. Reservations are required and tickets can be purchased in advance from the theatre's website

or directly from Broadway Up Close

. As of January 2022 pricing is $54 Adult and $49 Child (12 and younger).
Groups have the option of reserving a private tour on an alternate date. Private tour dates are subject to availability; call (646) 975-4619

or email infohudson@theambassadors.com

to make your group tour reservation.
** Due to the Covid-19 pandemic theatre tours are only available to private groups until further notice **
Radio City's signature "Stage Door Tour" runs daily every half hour from 9:30am to 5pm and lasts approximately 75 minutes. Tickets are available in advance on the Radio City Music Hall website

or may be purchased in person at the Radio City Sweets & Gifts store located at 1260 Avenue of the Americas (between 50th and 51st Streets).
Tickets are $31 (Children/Students/Seniors $27). Group rates (15+) are available, for pricing and purchasing call (212) 465-6080

or email Group.Sales@msg.com

. Information correct as of February 2020.
Note: tour content, prices, dates and times are subject to change without notice. Tours are offered on a first come, first served basis and are subject to availability. When an event is in progress there may be limited access to the seating area inside the Music Hall and the understage area. Furthermore, tours may only be able to view the Auditorium from a private viewing area.
Tours are offered approximately every 10 minutes; stop by the Tour Desk when visiting the Kennedy Center where Friends of the Kennedy Center tour guides are ready to give tours every 10 minutes for any individuals or groups with less than 15 in their party. Tour Hours are Mon-Fri 10am-5pm, Sat-Sun 10am-1pm. All tours are wheelchair accessible.
Group tours for 15-60 attendees should make a group tour request in advance 

. Foreign language tours are available by request 

.
Tours are typically given on Friday mornings at 10:30am and last about 1 hour. Specific dates offered vary by show schedule and staff availability and are subject to change. For the most up-to-date information check the "Tours" link on the theatre's website

.
Photographs copyright © 2002-2023 Mike Hume / Historic Theatre Photos unless otherwise noted.
Text copyright © 2017-2023 Mike Hume / Historic Theatre Photos.
For photograph licensing and/or re-use contact me here

.
| | | |
| --- | --- | --- |
| Follow Mike Hume's Historic Theatre Photography: | | |