<< Go Back up to Historic Theatre Photography main page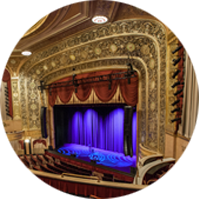 This theatre tour guide features all the information we have on theatre tours in Los Angeles and the L.A. Metro area. The guide covers theatres featured on this website so you may wish to check local listings for any additional theatre tours available in Los Angeles and the L.A. Metro area. Enjoy your tour!
The Los Angeles Conservancy

runs weekly tours of the Broadway Historic Theatre District. Subject to availability, the tour visits the interiors of one or more of the following theatres: Los Angeles Theatre, The Theatre at Ace Hotel (formerly United Artists Theatre), Orpheum Theatre.
Access is not guaranteed to any theatres due to events programming and logistics on the day so call ahead for details if you are concerned.
Tours run every Saturday at 10am and last approximately 2.5 hours. Tickets $10.
The Dolby Theatre runs tours seven days a week, every hour on the hour from 11am to 3pm, except when theatre operations prevent tours from taking place.

The docent-led walking tour lasts 30 minutes and includes a visit to the Dolby Lounge where you will see a real Oscar statue. Access to the theatre and particularly the stage is at the discretion of the visiting company and/or theatre operations on the day and is not guaranteed. Tickets are $25 (Seniors/Youth $19) and may only be purchased from the Dolby Theatre Box Office in person. Advance bookings are not usually necessary. Further information is available on the Dolby Theatre's website

. Box Office times are listed here

.
** Tours are currently on hiatus while the theatre undergoes restoration and renovation. The theatre is expected to open some time in 2023 **
As of Summer 2019, American Cinematheque runs monthly tours, schedule permitting. Generally tours run at 10:30am on Saturdays, last around 60 minutes, and cost under $10. Most of the tour is on a level surface with very low gradient ramps. If you want to visit the old Dressing Rooms and Backstage areas be prepared to climb several flights of stairs. Find out more by looking at American Cinematheque's Calendar

. Walk-ups welcome; advance reservations not required.
** Due to the Covid-19 pandemic theatre tours are on hiatus until further notice **
As of mid-2018 the theatre runs 45-minute tours daily, usually at 8:30am, for $12 per person, subject to availability and/or change without notice. The tour includes the auditorium, backstage, dressing rooms, lower lounge, lobbies and the organ – all subject to availability and current theatre operations.
"Express" tours ($9 and lasting 15 minutes) are generally available throughout the day, dependent on current programming, and cover Front-of-House and lobby areas.
Tickets for all tours are available for purchase in-person at the theatre Box Office; advance reservations are not required. For further information check out the El Capitan Theatre Tour Flyer

or refer to the El Capitan Theatre ticketing website

. For more information or questions call 1-800-DISNEY6

or visit the theatre Box Office.
Note: movie screenings at the El Capitan often feature specially tailored pre-shows, often featuring the Wurlitzer organ and various entertainment features inside the auditorium, so differing requirements of these programs may restrict tour access to certain areas.
April Clemmer's Old Hollywood Walking Tour

will tour you around the Hollywood Boulevard Commercial and Entertainment District. Tours generally run the last Friday of every month plus additional special dates, and last approximately 90 mins. Advance reservations are requested. For more information, tour schedules, and reservations, go to the Old Hollywood Walking Tour website

.
The Music Center offers a variety of tours:
Campus Tours

** Symphonian tours will resume on 1st March 2022 ** The Music Center Symphonians, who are voluntary docents for The Music Center, offers a 90-minute docent-led tour of The Music Center's four theatres: Dorothy Chandler Pavilion, Ahmanson Theatre, Mark Taper Forum and Walt Disney Concert Hall. Tours run 90 minutes, are free, and start from the Walt Disney Concert Hall lobby. Please check the Tour Schedule on the Music Center's website to confirm availability. Note: access to venues is subject to availability and daily operations; you may not get to see inside all venues.

Walt Disney Concert Hall Tours

** TOUR CURRENTLY ON HIATUS ** Docent-led tours taking visitors through much of the interior space and the gardens, presenting the highlights of the architecturally stunning building. Tours run 60 minutes, cost $15, and start from the Walt Disney Concert Hall lobby. Tours of the Walt Disney Concert Hall do not include the auditorium due to rehearsal, performance and special event schedules.

Self-Guided Walt Disney Concert Hall Tours

Self-guided tours of the interior space and gardens. Tours are available on most days, check the Tour Schedule on the Music Center's website to confirm availability. Tours run 60 minutes, are free, and start from the Walt Disney Concert Hall lobby. Note: access to the Concert Hall is subject to availability and daily operations; you may not get to see inside the Concert Hall.
Reservations are not required unless groups sizes are 15 or over. Information correct as of February 2022.
The Pasadena Civic does not currently offer tours however they host many events which are available to book online at the theatre's website

.
My Valley Pass

visits the interior of the Pasadena Civic Auditorium as part of their Pasadena Walking Film Tour

, offered on an irregular basis according to venue availability.
Another way of getting into the Pasadena Civic is to audition for America's Got Talent

. AGT generally holds their auditions every February/March at the theatre. Free audience tickets are usually available as well, most commonly from the On Camera Audiences

ticketing agency.
The Pasadena Playhouse runs ad-hoc tours for individuals and groups. For further information go to the Tours section of the theatre's website

or contact them at (626) 921-1162

/ tours@pasadenaplayhouse.org

.
As of March 2017 tours are arranged on an adhoc basis for groups of 5 or more. Each tour gives a great insight into the building's rich history, restoration programs and current activities, affording an overview of the architectural and design elements that grace both interior and exterior, and a demonstration of the renowned Wurlitzer Theatre Organ. For more details check the Mission Playhouse's website

.
The TCL Chinese offers two different tours:
A short tour of the theatre lobby and handprints in the forecourt.
A more in-depth tour of the theatre and public areas, including a short movie summarizing the theatre's history and also covering the above lobby and forecourt areas.
Tours run 7 days a week excluding days when special events are scheduled. For more information and to book tickets check out the theatre's VIP Tour website

, call them at (323) 463-9576

, or email tours@chinesetheatres.com

. Group rates are available.
The theatre is currently closed to the public and has 24/7 security on-site. Knock on the door and they may let you take a look!
Photographs copyright © 2002-2023 Mike Hume / Historic Theatre Photos unless otherwise noted.
Text copyright © 2017-2023 Mike Hume / Historic Theatre Photos.
For photograph licensing and/or re-use contact me here

.
| | | |
| --- | --- | --- |
| Follow Mike Hume's Historic Theatre Photography: | | |