<< Go Back up to Region 'Los Angeles: Downtown'
| | | | |
| --- | --- | --- | --- |
| Follow Mike Hume's Historic Theatre Photography: | | | |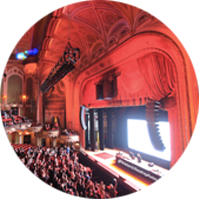 Featured Photos
Overview
The Orpheum theatre opened in 1926 as the fourth and final Los Angeles venue for the Orpheum circuit, and the second Orpheum theatre to be built on Broadway in downtown LA. The theatre is home to a Mighty Wurlitzer organ which is still in service today. Architect G. Albert Lansburgh designed the theatre and it remains one of his most elaborate examples, including plush fittings throughout the theatre and lobbies.
By the start of the 1930s the Orpheum changed its main programming from vaudeville to movies, and by 1932 business was so bad that the theatre was sadly closed. It re-opened in 1933 with wider programming, re-introducing vaudeville, and maintained a solid calendar until 1947. Throughout the 1950s and beyond the Orpheum reacted to changes in popular live entertainment, and in addition to screening movies it hosted vaudeville, comedy, theatre and music concerts of all varieties.
A major refurbishment was undertaken in 2001 and the Orpheum is now arguably the best-preserved theatre of its era in Los Angeles. Original features were retained and of particular note are the theatre's annunciators: small windows positioned at either side of the Proscenium Arch containing cards indicating the current performing act. Very few vaudeville theatres have retained their annunciators, might the Orpheum be the only such example on the west coast of the US?
Movie, TV & Music Video Appearances
Movies
Television
Music Videos
Documentary
Award Shows
Listed/Landmark Building Status
How do I visit the Orpheum Theatre?
The Orpheum does not offer its own tours however below are some options for potentially seeing a bit more of the theatre than by simply attending one of the many and varied commercial events it hosts:
Information correct as of March 2017.
Further Reading
Online
Books
Technical Information
Flying System
Bar Length
52ft
Grid Height
60ft 10in
Linesets
20 @ 750lbs per lineset
Pin Rail Location
Stage Left
Stage Dimensions
Apron Depth
3ft
Proscenium Height
28ft 6in
Proscenium Width
50ft
Stage Depth
29ft from setting line to rear wall
Width, wall to wall
81ft
Photos of the Orpheum Theatre
Photographs copyright © 2002-2019 Mike Hume/historictheatrephotos.com unless otherwise noted.
Text copyright © 2017-2019 Mike Hume/historictheatrephotos.com.
For photograph licensing and/or re-use contact me here.
| | | | |
| --- | --- | --- | --- |
| Follow Mike Hume's Historic Theatre Photography: | | | |