<< Go Back up to Region 'Los Angeles: LA Metro Area'
| | | | |
| --- | --- | --- | --- |
| Follow Mike Hume's Historic Theatre Photography: | | | |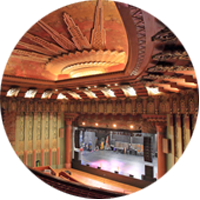 Featured Photos
Overview
The 1931 Wiltern Theatre is a stunning example of Art Deco architecture; its name derives from the intersection it's located on: WILshire & WesTERN. The theatre was originally intended to be a vaudeville house and was designed by Stiles O. Clements with an interior by G. Albert Lansburgh. Originally built with seating for 2,344, the theatre was modified in 2002 to remove the 1,200 Orchestra level seats so as to create a flexible layout catering for temporary seating and standing-room configurations. The theatre is currently operated by Live Nation.
When it first opened The Wiltern housed the largest pipe organ in the western US, a 37-rank Kimball. Despite restoration in 1962 the organ has since been removed.
The centerpiece of the interior design is the auditorium ceiling which heralds a sunburst pattern of Art Deco skyscrapers, an imagining of future buildings on the city's up-and-coming Wilshire Blvd.
In the late 1970s The Wiltern was saved from demolition twice thanks to the intervention of preservationists. In 1981, The Wiltern was purchased by developer Wayne Ratkovich who worked with architect Brenda Levin to restore the theatre to its former glory. At this time the stage was extended rearward by 15ft to accommodate larger theatre performances which wouldn't have been possible in the shallower original design.
Movie, TV & Music Video Appearances
Movies
Television
Music Videos
Documentary
Award Shows
How do I visit The Wiltern?
As of March 2017 The Wiltern does not offer theatre tours but you can of course attend one of the many and varied events hosted by The Wiltern. Check The Wiltern's website

for more details.
Further Reading
Online
Books
Technical Information
Flying System
Counterweight System
56 Linesets
General Information
Balcony Capacity
1,144 (fixed original seating)
Orchestra Capacity
2,300 standing; 1,850 seated
Stage Dimensions
Proscenium Width
Approx 54ft
Stage Depth
40ft
Photos of The Wiltern
Photographs copyright © 2002-2019 Mike Hume/historictheatrephotos.com unless otherwise noted.
Text copyright © 2017-2019 Mike Hume/historictheatrephotos.com.
For photograph licensing and/or re-use contact me here.
| | | | |
| --- | --- | --- | --- |
| Follow Mike Hume's Historic Theatre Photography: | | | |