Detailed Information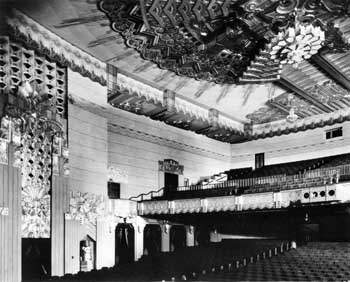 The Warner in 1930
The theatre first opened in November 1930 with capacity for 1,468 patrons. Priteca designed the theatre in an Art Deco style, similar to its sister theatres the Warner Beverly Hills (demolished in 1988) and the Warner Grand in San Pedro (still in active use as an arts venue and owned by the City of Los Angeles). The Warner Huntington Park was built with organ chambers but, like its sister theatres, never received an organ.
Priteca's other notable works in Los Angeles include the Hollywood Pantages and the Fine Arts Theatre in Beverly Hills. He also designed every theatre for the Pantages chain from 1911 onwards.
Sometime in the late 1940s / early 1950s management transferred to the Stanley Warner Corporation, and in 1968 Pacific Theatres took over.
In the 1980s Pacific Theatres redeveloped the theatre into a two-screen "twin", renaming it Pacific's Warner 2. Many Spanish and Spanish-subtitled films ran at the theatre, supporting the local community well.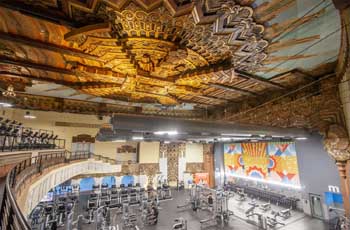 The Warner, re-purposed as a gym
In the 1990s the theatre was closed and remained vacant for an extended time. The City of Huntington Park declared it a historic landmark in 2007, then in 2013 it was sold for $1.6 million to Pacific Blvd. Holdings / Retail Management Corp. Although a live entertainment tenant was sought, none who were willing to pay the anticipated rent were found. Despite robust objections from preservationists and some of the local community, the City of Huntington Park granted variances allowing the theatre to be converted to retail use.
In 2015 work commenced on removing the twinning, leveling the auditorium floor, opening up the wall separating the auditorium from the lobby, and chopping off the front section of the balcony.
In late 2018 the theatre reopened as a gym operated by Blink Fitness

.
As of 2019 Blink Fitness are generally welcoming of people interested to see the interior of the old theatre.