<< Go Back up to Region 'Los Angeles: Hollywood'
| | | | |
| --- | --- | --- | --- |
| Follow Mike Hume's Historic Theatre Photography: | | | |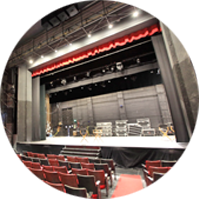 Overview
The Montalban opened in January 1927 as The Wilkes Brothers Vine Street Theatre and the first legitimate Broadway-style theatre in Hollywood. The early 1930s saw it run as a cinema for a few years before becoming the CBS Radio Playhouse – and home of the Al Jolson show – in 1936.
CBS Radio hosted the long-running anthology series "Lux Radio Theatre" at The Montalban featuring Cecil B. DeMille as producer and host for many years. In the 1950s the theatre was sold by CBS to Huntington Hartford and reverted to being a legitimate venue, with the inaugural production featuring Helen Hayes in "What Every Woman Knows" written by J. M. Barrie (of "Peter Pan" fame).
James Dolittle owned the theatre from the mid-1960s until it was acquired roughly 20 years later by UCLA. The theatre remained dark until 1999 when the Ricardo Montalban Foundation bought the building with the vision of providing inspiration and training for emerging artists in the Hispanic community and thus enabling them to mainstream into the performing arts and the broader entertainment industry. Reopened in 2004 The Montalban now runs a variety of film festivals, rentals and the hugely successful rooftop cinema club.
The theatre's façade underwent a remodel in the 1950s but has since been restored to more closely match its original 1927 appearance with signature triple windows. The interior has been redecorated many times, most notably during the theatre's 1950s modernization, and as such little remains of the original interior design.
First established in 2015, the Rooftop Cinema Club utilizes the theatre's roof as an open-air movie theatre, with a large projection screen in place on the stagehouse's fly tower wall. Warm summer evenings screening classic movies, coupled with artisan eats and craft beverages, have proven very popular with Los Angeles movie-goers.
How do I visit the Ricardo Montalban Theatre?
As of May 2017 The Montalban does not offer theatre tours. Instead you may wish to check out the theatre's events calendar

or attend a screening at The Rooftop Cinema Club

.
Further Reading
Online
Technical Information
Flying System
Flying System
Counterweight System (wire guide)
Linesets
47 linesets (4-line), last lineset (47) currently inoperable
General Information
Balcony Overhang
Row I (i.e. between H and J) of Orchestra
Seating Capacity
950 (originally 1,200)
Lighting
Dimmers
96 @ 2.4kW 20A (Stage Pin connectors) located DSR
Fixtures
17 @ Source 4 Ellipsoidals; 21 @ Chauvet Pro Colorado 1-Quad Tour Zoom; 12 @ S4 PAR
Movie Projection
Center Stage Screen
42ft x 22ft
Center Stage Screen (rear projection)
38ft x 28ft
DCP System
NEC 2000-C Full Screen 18,000 Lumen DCP System (large main screen only)
Left Side Screen
14ft 6in x 10ft 6in (4:3 aspect ratio)
Projectors
3 @ Canon WUX 6000 Projectors 2K resolution with Standard Lens; 1 @ Canon RS-IL02LZ Long Focus Zoom Lens 1.54-2.4; 1 @ Canon RS-IL02WZ Short Focus Zoom Lens 1.00-1.54
Right Side Screen
14ft 6in x 10ft 6in (4:3 aspect ratio)
Stage Dimensions
Center Line to SL Wall
33ft
Center Line to SR Pin Rail
32ft
House Curtain to Rear Wall
34ft
Proscenium Height
24ft 10in
Proscenium Width
38ft
Photos of the Ricardo Montalban Theatre
Photographs copyright © 2002-2019 Mike Hume/historictheatrephotos.com unless otherwise noted.
Text copyright © 2017-2019 Mike Hume/historictheatrephotos.com.
For photograph licensing and/or re-use contact me here.
| | | | |
| --- | --- | --- | --- |
| Follow Mike Hume's Historic Theatre Photography: | | | |