<< Go Back up to Region 'Los Angeles: Downtown'
| | | | |
| --- | --- | --- | --- |
| Follow Mike Hume's Historic Theatre Photography: | | | |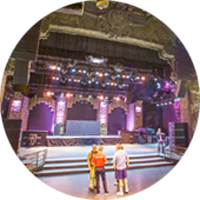 Featured Photos
Overview
The Mayan theatre in downtown Los Angeles is a stunning example of the 1920s fascination with revival-style theatre architecture, in this case Mayan revival. The Mayan opened its doors in 1927 as a legitimate theatre; it is now used as a nightclub and events space. Between times it has showcased movies, blue movies, and has been the scene of many movie locations.
Designed by Stiles O. Clements, the theatre originally seated 1,491 on two levels and was intended as a musical comedy house. The design featured 12ft-wide sidestages on either side of the proscenium arch, perhaps for comic asides or intermission entertainment. On a technical point it's interesting to note that the grid structure above the stage extends over these sidestages.
Intricate details in the lobby – known as "The Hall of the Feathered Serpents" – have been well preserved. The auditorium still boasts all of its original detail including the magnificent centerpiece lighting fixture inspired by the Mayan calendar stone.
The Mayan theatre has featured in many movies including "The Bodyguard" (1992), "Save The Tiger" (1973), "A Night at the Roxbury" (1998), "The Replacement Killers" (1998) and "Playing by Heart" (1998).
Starting with its opening in 1927, backstage staff recorded shows, by date, running at the theatre, on a wall in the basement Pump Room. This list survives today and provides valuable insight into the programming of the theatre over its long history.
Movie, TV & Music Video Appearances
Movies
Television
Music Videos
Documentary
Listed/Landmark Building Status
Los Angeles Historic-Cultural Monument #460 (added 17th October 1989)
How do I visit The Mayan?
As of March 2017 The Mayan does not offer tours and neither do independent companies. Your best bet is to attend one of the many and varied events The Mayan hosts (check their website, link above).
Further Reading
Online
Books
Technical Information
Flying System
Counterweight Lines
8 linesets rigged to Stage Right
Fly Floor
Stage Left and Stage Right, approx 30ft above stage floor
Grid Height
Approx 70ft
Stage Dimensions
Proscenium Width
43ft
Side Stage Widths
12ft
Stage Depth
38ft
Photos of The Mayan
Photographs copyright © 2002-2019 Mike Hume/historictheatrephotos.com unless otherwise noted.
Text copyright © 2017-2019 Mike Hume/historictheatrephotos.com.
For photograph licensing and/or re-use contact me here.
| | | | |
| --- | --- | --- | --- |
| Follow Mike Hume's Historic Theatre Photography: | | | |